The Essential Beach Packing List
Publish Time: Author: Site Editor Visit: 390
When it comes to summer holiday, beaches are at the top of almost everyone's list of most relaxing places to go. The beautiful sea and breezy beach offer many activities for young and old alike, which is also a great place to escape from the busy routine. As fun as going to the beach can be, it does need some planning ahead in order to have the best trip possible, so take a few days to plan for your next beach trip. Here we've got you covered with a list of beach essentials.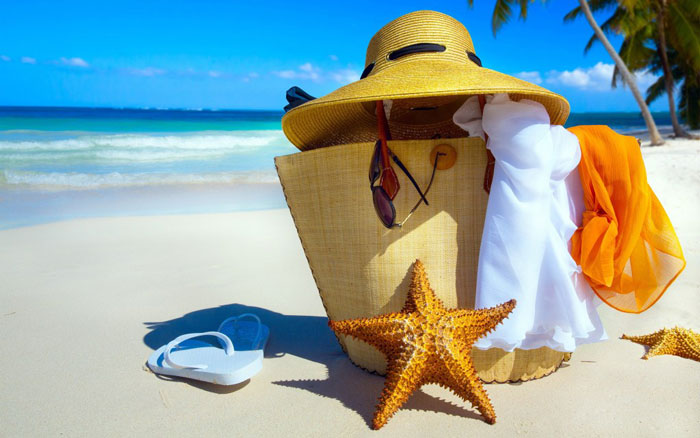 1.The Right Clothing
Apart from the beautiful swimsuit, you need to take some laundry that is easy to change, because it is inevitable to get wet inadvertently when play in the beach. You'd better take a long-sleeved coat if you are going to spend the night.
2.Float Straps For Devices
If you're planning to bring your devices anywhere near the water they should be waterproof and afloat. Nobody wants to leave his phone sinking to the bottom of the ocean. These float straps are made for keeping small devices like cameras and phones afloat so that you can retrieve them more easily.
3.Waterproof Bag
You'll need a place to stash your valuables away from the water and the sand. Pick a waterproof bag so that you can prevent your phone and wallet from falling into the sand and water.
Beach blankets are always necessary, but the wrong blanket will get blown around, and filled with sand, which will be hard to dry at the end of the day. This Carries folding beach blanket is made of ultra-soft fabrics and it's quick-drying and lightweight. It also folds up very compactly for packing purposes. There are sand weights on the edges, too, so it won't blow around in the beach breeze! It even has 4 corner sand pockets with loop for your belongings.
5.Take Some Snacks
If you're planning to stay at the beach for a few hours, you're going to want some snacks and drinks to get you energetic. Keep it fairly simple, like some sandwiches and fruit, otherwise you'll likely end up with sand in your food.
6.Portable Charger
A day of fun in the sun can certainly drain your device batteries. Bring a portable charger with you to recharge your smart phone.
7.Underwater Digital Camera
A waterproof camera will record your happy underwater times! With it, you can not only take some beach photos, but also take a lot of beautiful photos of the sea creatures under the water.
8.A Pair Of Beach Slippers
A pair of beach slippers is must have for the beach trip. And it should be slip resistant, for that walking on the beach will be easier.
Prepare everything and start your relaxing beach trip~