The Most Quick Way To Hang A Hammock
Publish Time: Author: Site Editor Visit: 331
As people become more interested in outdoor adventures, hammocks have become an important part of outdoor sports. These colored hammocks hovering between trees are becoming more common,making the tired adventurer's night more comfortable. If you are interested in it, we can give you some advice.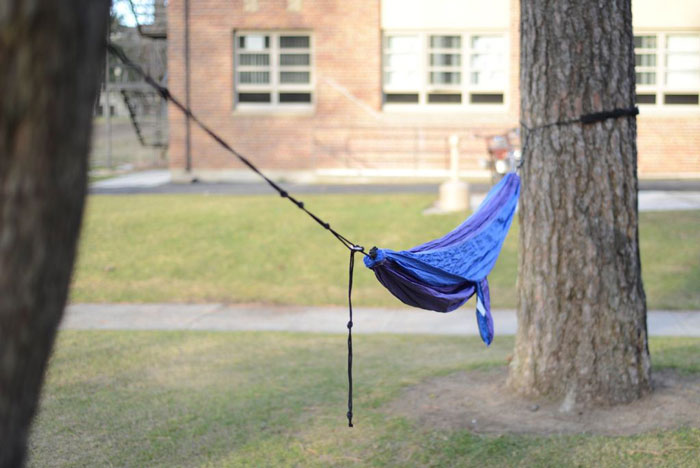 The hammock is a bedding with a high frequency of outdoor activities. Hammocks are also divided into different types depending on the various material.When choosing a hammock, consider the following factors:
1.Size
The main difference is single and double. The double is larger and will be more comfortable;while the single will be relatively lighter.
2.Weight
Weight of the hammock is the main consideration when packing. And make sure to get hooks that will hold at least your body weight.
3.Use Frequency
If you use it often and are more likely to stay with it a long time, durability is the most important factor you need consider. Nylon hammock that can withstand heavy load is indeed an excellent choice for you.
4.Extra Function
The hammock with a mosquito net will avoid many annoyances when camping, especially at summer night. There are also waterproof hammocks in the market that you can consider. Choose the one that meets all your needs.
After getting the hammock, how to set up it turns to be a new question. Here are the basic procedures.
Step 1: Find 2 Trees to Hang Your Hammock Between
Look for healthy, sturdy trees and avoid trees that are young and thin. Try to find 2 trees that are spaced apart the same distance as the length of your hammock.
If the distance between the two trees are shorter than your hammock, don't use them or your body will be resting on the ground when you're in your hammock. While, if the distance between 2 trees is greater than the length of your hammock, you can use chains or rope to make your hammock reach. Just try not to go over 18 inches extra on each side of your hammock or it could rip.