Sleeping Pad Guide: Thick, Light Weight, Wholesale Pads - Kaisi Outdoor
Publish Time: Author: Site Editor Visit: 198
Meta Description: "Discover the ultimate sleeping pad guide for outdoor enthusiasts. Explore thick, light weight, and wholesale sleeping pad options from Kaisi Outdoor."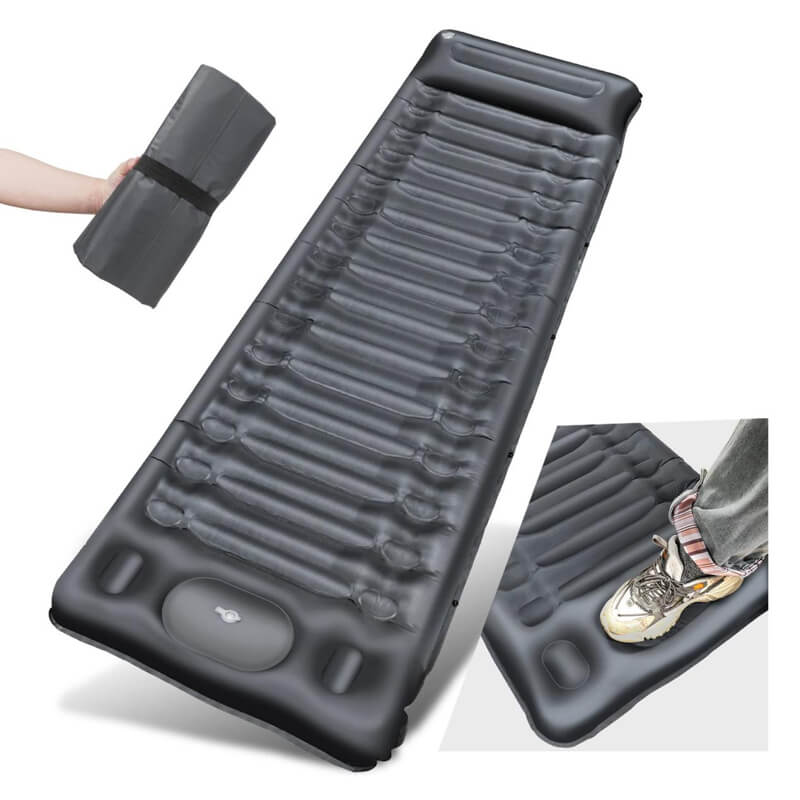 Introduction:
When it comes to outdoor adventures, a good night's sleep is essential for recharging your energy and making the most of your experiences. That's where the right sleeping pad comes in. Whether you're a seasoned backpacker, a casual camper, or an outdoor enthusiast, finding the perfect sleeping pad can make all the difference in your comfort and enjoyment. In this comprehensive sleeping pad guide, we will delve into the world of outdoor gear with a focus on thick sleeping pads, light weight sleeping pads, and the benefits of wholesale options. Join us as we explore how Kaisi Outdoor can fulfill your sleeping pad needs and elevate your outdoor escapades.
1. The Importance of Comfort: Thick Sleeping Pads for Ultimate Rest
As an outdoor enthusiast, you know that a good night's sleep is crucial for tackling the adventures that await you. A thick sleeping pad can provide the comfort and cushioning needed to ensure you wake up refreshed and ready to seize the day. With varying thickness options, you can tailor your choice to your personal preferences and the demands of your outdoor activities. Kaisi Outdoor offers a range of thick sleeping pads designed to provide you with the comfort you deserve during your outdoor journeys.
2. Lightweight Adventures: Exploring Light Weight Sleeping Pads
For those who prioritize lightweight and streamlined gear, a light weight sleeping pad is a game-changer. These pads are designed to minimize pack weight while still providing adequate insulation and support. Whether you're embarking on a multi-day backpacking trip or a quick weekend getaway, a light weight sleeping pad can be your trusted companion. Kaisi Outdoor's collection of light weight sleeping pads ensures that you can enjoy the benefits of ultralight gear without compromising on quality or comfort.
3. Wholesale Sleeping Pads: Perfect for Group Adventures
If you're an outdoor group leader, organizer, or someone who loves sharing outdoor experiences with friends and family, wholesale sleeping pads might be the solution you're looking for. Buying in bulk not only saves you money but also ensures that everyone in your group is equipped with reliable and comfortable sleeping gear. Kaisi Outdoor offers a variety of wholesale sleeping pads that are ideal for camping trips, hiking excursions, and group adventures of all kinds.
4. Elevating Outdoor Comfort: Kaisi Outdoor's Sleeping Pad Collection
At Kaisi Outdoor, we understand the importance of quality gear for your outdoor experiences. Our sleeping pad collection is designed to cater to a wide range of preferences and needs. With thick sleeping pads for optimal comfort, light weight sleeping pads for minimalists, and wholesale options for group outings, we have you covered. Our commitment to delivering reliable and high-quality outdoor gear ensures that you can embark on your adventures with confidence, knowing that your sleeping pad will contribute to a restful night's sleep.
Conclusion:
In the world of outdoor adventures, a good night's sleep is an invaluable asset. The right sleeping pad can significantly impact your level of comfort and overall enjoyment during your outdoor escapades. Whether you prefer the plush cushioning of a thick sleeping pad, the convenience of a light weight option, or the practicality of wholesale solutions, Kaisi Outdoor offers a diverse range of sleeping pads to meet your needs. Elevate your outdoor comfort today and explore the variety of sleeping pad options available, knowing that Kaisi Outdoor has your back, ensuring you're well-rested for the adventures that lie ahead.