Luxury Family Tents for Camping: How to Choose the Perfect Outdoor Big Tent
Publish Time: Author: Site Editor Visit: 215
Meta Description: "Discover the ultimate guide to selecting luxury family tents for camping. Find top tips and recommendations for outdoor big tents and luxury camping items."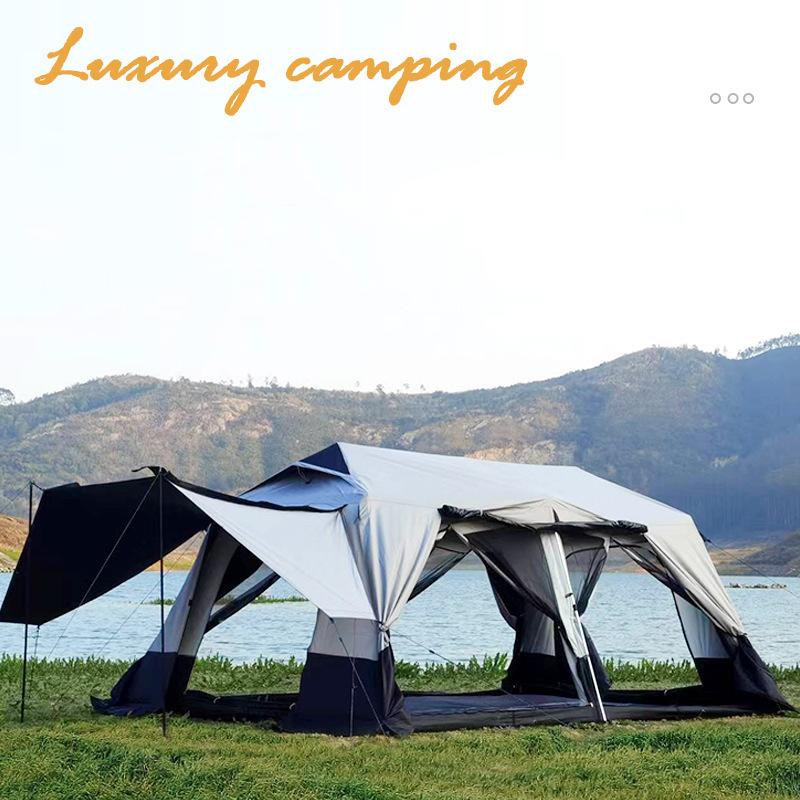 Introduction:
Embarking on a family camping adventure is an exciting opportunity to connect with nature and create lasting memories. To ensure a comfortable and luxurious experience, selecting the right family tent is crucial. Whether you're planning a weekend getaway or an extended camping trip, investing in a high-quality outdoor big tent can make all the difference. In this comprehensive guide, we'll walk you through the essential factors to consider when choosing a luxury family tent for camping. With expert tips and recommendations from Kaisi Outdoor, your trusted provider of premium camping gear, you'll be well-equipped to make an informed decision that meets all your camping needs.
Assessing Your Needs: Determining the Ideal Size and Features
Before delving into the world of luxury family tents, it's important to assess your specific camping needs. Consider the number of family members, preferred sleeping arrangements, and desired living space. Are you looking for separate sleeping compartments or a large open area for communal activities? Understanding your requirements will help you narrow down your options and find a luxury family tent that accommodates your entire family comfortably.
Key Features: Enhancing Comfort and Convenience
When it comes to luxury family tents for camping, certain features can elevate your camping experience. Keep the following factors in mind as you explore your options for outdoor big tents and luxury camping items:
a) Size and Space: Opt for a large tent that provides ample space for sleeping, moving around, and storing gear. Look for models with designated sleeping areas, a spacious common area, and additional storage compartments.
b) Durability and Weather Resistance: Ensure your luxury family tent is made from high-quality materials that can withstand various weather conditions. Look for sturdy poles, waterproof fabrics, and reinforced stitching to keep your family protected from the elements.
c) Ventilation: Proper airflow is essential for a comfortable camping experience. Look for tents with mesh windows, vents, and removable rainfly options to regulate temperature and prevent condensation buildup.
d) Setup and Portability: Consider the ease of setting up and dismantling the tent, especially if you plan on moving frequently. Look for models with intuitive designs, color-coded poles, and user-friendly instructions. Additionally, prioritize portability by choosing lightweight materials and a compact storage size.
Luxurious Additions: Enhancing Your Camping Experience
Luxury family tents often come with additional features and luxury camping items that enhance comfort and convenience. Consider the following luxurious additions:
a) Multiple Rooms and Dividers: Separate sleeping compartments offer privacy and create a sense of personal space for each family member. Dividers can be easily removed to create a larger common area when needed.
b) Built-in Flooring: Some luxury tents feature built-in flooring, providing an added layer of insulation and protection from bugs and damp ground.
c) Interior Storage Pockets and Gear Lofts: Keeping your camping gear organized and easily accessible is essential. Look for tents with interior storage pockets and gear lofts to store personal belongings, flashlights, and other essentials.
d) Integrated Lighting: Built-in LED lighting systems or hooks for hanging lanterns can illuminate your tent during nighttime activities and create a cozy ambiance.
Considerations for Long-Term Camping: Durability and Maintenance
If you're planning an extended camping trip or multiple outings throughout the year, durability and maintenance become crucial factors. Pay attention to:
a) Quality Materials: Opt for large tents made from durable and rip-resistant fabrics to ensure longevity. Look for features like reinforced stitching and heavy-duty zippers for added durability.
b) Ease of Cleaning: Camping adventures can get messy, so consider tents that are easy to clean and maintain. Removable floor panels and washable fabrics make cleaning a breeze.
c) Warranty and Customer Support: Check for warranty information and customer support availability. A reliable warranty can provide peace of mind, and responsive customer support can assist you in case of any issues.
Conclusion:
Choosing a luxury family tent for camping is a significant decision that can greatly impact the enjoyment and comfort of your outdoor adventures. By assessing your needs, considering key features, and exploring luxurious additions and luxury camping items, you can find the perfect outdoor big tent that caters to your family's requirements. Invest in a luxury family tent today and embark on unforgettable camping trips filled with comfort, convenience, and cherished moments amidst nature.
Kaisi Outdoor, the premier provider of outdoor big tents and camping gear, offers a wide range of high-quality products designed to enhance your camping experience. Invest in a luxury family tent today and embark on unforgettable camping trips filled with comfort, convenience, and cherished moments amidst nature.